Rising Income Inequality & Shifting Identities – The Specialist & The Omnivore
An excellent explanation of the effects of the transitions from economy to abundance. As technology increases, ownership of things that make things (physical capital) will be more important and relationships will eventually become the only scarce good.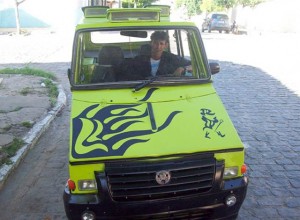 Orismar de Souza, a homeless man in Brazil, built a car using junk, spare parts and a hammer and chisel. Four years later, the "shrimpmobile" has him back on his feet.
http://www.msnbc.msn.com/id/42329229/ns/technology_and_science-tech_and_gadgets/
This story mirrors the story of my great grandfather, James Dodd. He had worked as a coal miner since he was 8 years old to support his mother and siblings. During the great depression he and a friend built a motorcycle from spare parts and road to Detroit to find work in the factories. They left their wives and children behind and when they got to Detroit had to camp out waiting to find work. Remember, at the time there were barely any paved roads. They had to ride through the mountains of Pennsylvania, across Ohio and into Michigan on a single motorcycle they built from junk.
They had to camp for a month before they could get work. They then saved money and sent for there wives and children to join them. At one point my great grandfather had not eaten for a week. When the women who had been renting a room to him found out she offered him food. He insisted that he would not accept charity and instead did work on the house in exchange for meals.
At one point while working in the factory his job was to test alternators. he would put the bad alternators in a box. He arranged to buy the bad ones then at night in his kitchen he would repair them and sell the re-manufactured alternators to repair shops and people fixing their own cars. He eventually quit the job at the factory and was running his own business.
He invested the money from the alternator business into fixing up and renting houses. At one point he had an entire neighborhood with a grocery store which he would allow his tenets with children who had trouble paying the bills to owe him for food until they could find work. The one rule he had was that they had their children ready to go to church which he would drive them them to in the school bus he bought.
When he died the procession of people who attended his funeral was over a mile long. He touched thousands of people's lives and it all started from a pile a junk.

In the USA picking strawberries is hard low paid work for migrant, often illegal alien, workers. Japan's robot strawberry picker comes from a different mindset.
Most post-industrialized nations complain about cheap foreign labor taking their jobs. Similarly people living in high income nations complain that automation is eliminating jobs, even jobs no one really wants to do. Standing in the hot sun bending over picking strawberries for 12 hours per day is not desirable work for any person.
Japan values their national cultural identity much more than other post-industrialized nations. Being a small island nation they are very concerned about depending on foreigners for materials. Japan understands and values self-sufficiency. Additionally, Japan is an aging society. The ratio of young people who are able to do manual labor is declining. If Japan is going to remain self-sufficient it must find ways to do more with less human labor.
Japan's obsession with automation stems from their need to do more with less. Proper design and automation is how Japanese companies increase productivity and quality while reducing costs.
Even though Japan is a small nation it produces a great deal of food, particularly for local use. Rather than using the mass production approach of the nations with large amounts of land such as the USA, Canada, and Russia, Japan produces food in super efficient small scale farms. These types of farms are particularly well suited to automation. A small family owned farm using automation can produce much more food per acre and at much higher quality than the large scale industrial farming approach. Rather than viewing automation as stealing jobs, the Japanese are spreading real wealth by allowing more people to directly own and operate the means of production.
Japan is moving forward into Abundance both technologically and socially. Other nations and people could learn a lot from the Japanese.