Researchers at the University of Michigan have discovered that physical pain and intense feelings of social rejection hurt individuals in the same way. More confirmation of NLP.
Ethan Kross, Assistant Professor, University of Michigan
If memories of emotional pain are felt the same way as current physical pain, that could mean the pain of PTSD is horrific. Fortunately this also shows there is a fast non-drug way to stop PTSD or other emotional pain.
For help you your pain check out Your Solution System.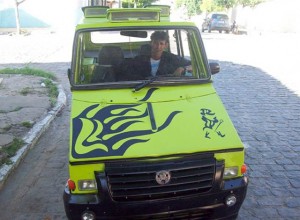 Orismar de Souza, a homeless man in Brazil, built a car using junk, spare parts and a hammer and chisel. Four years later, the "shrimpmobile" has him back on his feet.
http://www.msnbc.msn.com/id/42329229/ns/technology_and_science-tech_and_gadgets/
This story mirrors the story of my great grandfather, James Dodd. He had worked as a coal miner since he was 8 years old to support his mother and siblings. During the great depression he and a friend built a motorcycle from spare parts and road to Detroit to find work in the factories. They left their wives and children behind and when they got to Detroit had to camp out waiting to find work. Remember, at the time there were barely any paved roads. They had to ride through the mountains of Pennsylvania, across Ohio and into Michigan on a single motorcycle they built from junk.
They had to camp for a month before they could get work. They then saved money and sent for there wives and children to join them. At one point my great grandfather had not eaten for a week. When the women who had been renting a room to him found out she offered him food. He insisted that he would not accept charity and instead did work on the house in exchange for meals.
At one point while working in the factory his job was to test alternators. he would put the bad alternators in a box. He arranged to buy the bad ones then at night in his kitchen he would repair them and sell the re-manufactured alternators to repair shops and people fixing their own cars. He eventually quit the job at the factory and was running his own business.
He invested the money from the alternator business into fixing up and renting houses. At one point he had an entire neighborhood with a grocery store which he would allow his tenets with children who had trouble paying the bills to owe him for food until they could find work. The one rule he had was that they had their children ready to go to church which he would drive them them to in the school bus he bought.
When he died the procession of people who attended his funeral was over a mile long. He touched thousands of people's lives and it all started from a pile a junk.

Japan is dealing with their problem of aging population by automating health care. This automatic drying diaper could replace catheters and provide extra benefits.
Catheters might be cheaper in the short run but risk infections, are uncomfortable to insert and remove and require some training to insert. This automatic drying diaper requires no training, is much more comfortable with less risk of infection and offers other advantages.
Since there is already some electronics this device could be easily expanded to measure amounts and times, perform tests on the contents to monitor health and help with diagnostics plus alert care givers of needed care.
This is just one of the 15 Alternatives solution types. A diaper that automatically dries itself is an example of Return to Stable, and this one does it multiple times. A disposable diaper is a Single Stable, although not very stable. A catheter is a Multiple Direct, it directly catches urine multiple times. That is only 3 of the possible 15 solution types. There are 12 other types of innovation possible.