Why you need Qualitative interviews & Quantitative measurements plus a map of the complete idea space for successful JTBD.
"What if the unmet needs are so clear that you can match them to R&D pipeline?"
Great question and I love that you're testing assumptions and generalizations that's an important part of solving seemingly unsolvable problems.
The answer in one word strategy.
Product or business?
What is your goal? Are you trying to create a one-time flash-in-the-pan product or a profitable sustainable business? There's nothing wrong with a one-off product for short-term needs. As a business strategy that tends to be much more risky and cost more than growing a product into a family of related products and services.
Competition
If the unmet needs are so clear how are you going to deal with competition? This is another point about risk and profitability.
Prioritization
Which of the needs are most important?
Which of the needs are most profitable?
Will the product properly satisfy?
What level of each benefit do customers require to satisfy each unmet need? If you deliver something that's too low they won't buy. If you deliver something that's too high they also might not be because the product is too expensive. Either way you miss customers and lose money you could have otherwise had.
Time to deliver
How long to get it through the pipeline? Waiting until customers are screaming for a product makes it difficult to get the most value from that market. It also introduces tremendous risk. Someone else might satisfy it before you do including customers. Short deadlines cause stress on developers & breeds low quality products.
Too little too late
If you're targeting a short-term product then the amount of the market you can reach might not have enough value to give you a good return on investment. And even this would benefit from quantitative measurements.
Next
Those are only a some of the reasons you need Qualitative interviews & Quantitative measurements plus a map of the complete idea space for successful JTBD. You can only do that with Predictive Innovation.
Finally!
Predictive Innovation essentials compiled into a book accessible to the average person.
This is a serious how-to book. I've tried to make it easy to understand without dumbing it down. All 187 pages are valuable information. No fluff!
You will get detailed explanations and examples of the entire Predictive Innovation process including: Outcomes, 15 Alternatives, 7 Elements, Functions, Components, plus a lot of help on thinking predictively.
Core Skills covers the basics of mapping future desires and technologies. It introduces techniques for calculating Innovation Quotient which helps you eliminate risk.
If you're sharp, this book is all you need to get started predicting innovations.Available at Amazon.com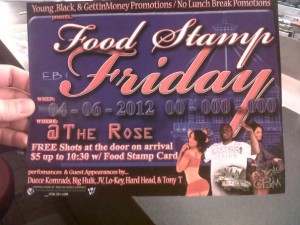 "Po' need 2 pahty 2"
The absurdity aside, a Food Stamp Friday Party could be an innovative business strategy.
The obvious way to look at it is as a charitable gesture. Truly needy people certainly do need some cheering up and they don't have the money to go out clubbing. But the indirect alternative could point out hidden markets.
It's likely the majority of SNAP card holders are women. Discounts for ladies brings in more women and that in turn brings in more men who spend money on drinks for themselves and the ladies.
This may also bring in groups of women who would otherwise not attend. Women tend to prefer going out in groups. If members of their group feel they can't afford to go out, the whole group may stay at home. By eliminating that objection the party promoter can bring in other women who will spend money.
Don't forget the party promoter created national attention for his local party. That alone is highly valuable to a promoter since on it's face the product is a commodity.
So when thinking about potential markets for your products look beyond the obvious customers. Predictive Innovation describes 90 types of business models. Most industries never look at more than 13% of the idea space. That means there could be 78 better business models you overlooked.
Predictive Innovation Training