This is a video of a cute Japanese girl but I saw much more when I watched it.
I see:
parts are staged to get different camera angles
the child is having fun
how the town is designed
the low counter at the store making it easier for people who can't reach higher such as the little girl or someone in a wheel chair
lots of video editing
planning to get the video
a relationship between the child and the videographer
USA commercialism in her clothing
people watching the video, some such as me on the other side of the world who will probably always be strangers
an impact doing this will have on the girl's development
the video being a wonderful gift to future generations
All of that went through my mind while I was watching it the first time. I didn't watch the video more than once. I didn't think about it afterwards. Those were all of my thoughts while watching the video. Of course I also saw how cute she was and the scenery.
How many different perspectives do you have on things you see, or hear?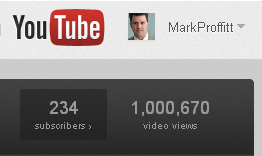 My Youtube channel, just surpassed 1 million video views.
I posted my first video Why 88% of Ideas Fail to Make it to Market on February 11, 2008. Since then I've posted a total of 30 videos but by far the video with the most views was Why We Don't Have Flying Cars, Yet.
My channel is now receiving over 100,000 views per month so the second million views should happen in less than a year. To celebrate 1 million views and to help get more views I'm making Predictive Innovation Core Skills: Inversion available for free.
In The Perils Of Extrapolation: Who Knows What The Next Disruptive Innovation Will Be Mike Masnick points out how important it is for an entrepreneur to be able to respond to changes. If you can accurately predict the next big innovation its easier for you to respond to change or even be first to market.
Traditionally forecasting doesn't work well for innovation. Trend analysis isn't very accurate for predicting the future because it's looking at the past rather than what makes the future happen. That is why most people thing, "It's always difficult to predict which innovation is actually going to hit".
Predictive Innovation changes that and puts you in control, increasing profits, decreasing risks, and neutralizing competition.