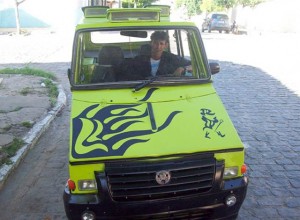 Orismar de Souza, a homeless man in Brazil, built a car using junk, spare parts and a hammer and chisel. Four years later, the "shrimpmobile" has him back on his feet.
http://www.msnbc.msn.com/id/42329229/ns/technology_and_science-tech_and_gadgets/
This story mirrors the story of my great grandfather, James Dodd. He had worked as a coal miner since he was 8 years old to support his mother and siblings. During the great depression he and a friend built a motorcycle from spare parts and road to Detroit to find work in the factories. They left their wives and children behind and when they got to Detroit had to camp out waiting to find work. Remember, at the time there were barely any paved roads. They had to ride through the mountains of Pennsylvania, across Ohio and into Michigan on a single motorcycle they built from junk.
They had to camp for a month before they could get work. They then saved money and sent for there wives and children to join them. At one point my great grandfather had not eaten for a week. When the women who had been renting a room to him found out she offered him food. He insisted that he would not accept charity and instead did work on the house in exchange for meals.
At one point while working in the factory his job was to test alternators. he would put the bad alternators in a box. He arranged to buy the bad ones then at night in his kitchen he would repair them and sell the re-manufactured alternators to repair shops and people fixing their own cars. He eventually quit the job at the factory and was running his own business.
He invested the money from the alternator business into fixing up and renting houses. At one point he had an entire neighborhood with a grocery store which he would allow his tenets with children who had trouble paying the bills to owe him for food until they could find work. The one rule he had was that they had their children ready to go to church which he would drive them them to in the school bus he bought.
When he died the procession of people who attended his funeral was over a mile long. He touched thousands of people's lives and it all started from a pile a junk.
Today when I attended the presentation by Gary Shapiro to the Detroit Economic Club I uncovered opportunities that were being overlooked. Mr. Shapiro, president of the Consumer Electronic Association, encouraged Detroit to embrace free trade agreements and use innovation to meet the challenges of increasing competition. He was absolutely correct, however as so many others beating that drum, he failed to explain how to innovate. Many of the attendees left feeling even more pressure.
Oddly enough, everyone of the people I spoke to were using the same failing approach to competition and every single one was overlooking huge profits from using resources they already own. Profits from things they currently considered expenses.
Two companies I spoke with were trying to improve efficiency in hopes of lowering prices. The first was a tool and die company that was implementing 6 Sigma to find ways to improve process efficiencies. This is a good thing. I was one of the founders of using statistical process control (SPC) in the USA back in the 1980s. If the company was typical they could expect 10-30% improvements. This would make many managers very happy. But they were actually wasting their time and energy. They had 4 very expensive machines sitting idle. They were probably losing $400,000 per year in missed revenue. More importantly if they just made $1 more from those machines it would be INFINITE improvement in efficiency. They are currently getting zero efficiency. The machines are collecting dust and wasting space. Any money they make from those machines is infinite increase in efficiency.