Disruptive innovation breakthrough from incremental improvements. The 3D controller in the video uses brute force pattern recognition and cheap hardware. It's what Ray Kurzweil claims will lead to the Singularity.
Cheap camera based 3D controllers have been on the market for close to 2 years. The interesting part of this video is how they do it. They have a large database of images for hand positions then compare what the camera sees to an image in the database. That is an extremely crude approach but the speed of cheap hardware makes it economical.
Most people view breakthroughs as rare and hard to achieve. Using the random creativity based approach that is very true. Business leaders want the disruptive breakthroughs because of the huge profit potential. If you are not using Predictive Innovation your only option is incremental improvements and mediocre little to no increases in profits. However you can achieve breakthroughs with incremental improvements. Read more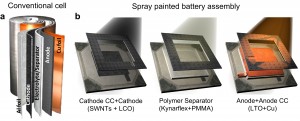 Rice University demos a process to spray-on batteries. This is Another step towards fully automated fabrication.
It was easy to predict that 3D printing would be able to make electronic parts. The process Rice uses probably doesn't actually need 3D printing to work but it fits the concept. Multiple layers of different materials are sprayed on a surface to create a battery.
Circuits are already being made using normal 2D printers by varying the thickness of the traces to create resistors and conductors. By using a 2 or 3 different materials the full range of electronic parts could be printed directly into the circuit so a robot could literally print a copy of itself. Stratasys and Optomec have already printed electronics.
The spray-on battery will make it easier to build batteries of different shapes and sizes. It will also make it possible for nearly anyone to make batteries anywhere in the world. This can drastically reduce the real costs in terms of time and materials.
While working on a innovations for food I came up with inhaled vitamins. A quick check on Google reveals it will be available for sale in 2011. It's getting harder to stay ahead of innovations.
I don't spend much time examining food innovations so I'm not surprised the industry is farther ahead than other things I look at regularly. My last food innovation took 3 years to come out and that one I told to a product manager at Wrigley.