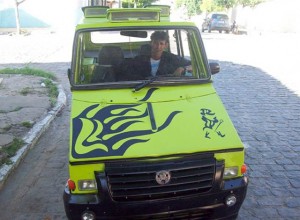 Orismar de Souza, a homeless man in Brazil, built a car using junk, spare parts and a hammer and chisel. Four years later, the "shrimpmobile" has him back on his feet.
http://www.msnbc.msn.com/id/42329229/ns/technology_and_science-tech_and_gadgets/
This story mirrors the story of my great grandfather, James Dodd. He had worked as a coal miner since he was 8 years old to support his mother and siblings. During the great depression he and a friend built a motorcycle from spare parts and road to Detroit to find work in the factories. They left their wives and children behind and when they got to Detroit had to camp out waiting to find work. Remember, at the time there were barely any paved roads. They had to ride through the mountains of Pennsylvania, across Ohio and into Michigan on a single motorcycle they built from junk.
They had to camp for a month before they could get work. They then saved money and sent for there wives and children to join them. At one point my great grandfather had not eaten for a week. When the women who had been renting a room to him found out she offered him food. He insisted that he would not accept charity and instead did work on the house in exchange for meals.
At one point while working in the factory his job was to test alternators. he would put the bad alternators in a box. He arranged to buy the bad ones then at night in his kitchen he would repair them and sell the re-manufactured alternators to repair shops and people fixing their own cars. He eventually quit the job at the factory and was running his own business.
He invested the money from the alternator business into fixing up and renting houses. At one point he had an entire neighborhood with a grocery store which he would allow his tenets with children who had trouble paying the bills to owe him for food until they could find work. The one rule he had was that they had their children ready to go to church which he would drive them them to in the school bus he bought.
When he died the procession of people who attended his funeral was over a mile long. He touched thousands of people's lives and it all started from a pile a junk.
Z-type is free fun game that builds your typing and spelling skills. The adrenaline from playing the fast paced game triggers your brain to subconsciously learn the spelling of the words.
Play Z-type yourself http://www.phoboslab.org/ztype/
Michigan desperately needs innovation to be competitive. When Japan started using Statistical Process Control (SPC) now known as Six Sigma, it was a competitive differentiator. In other words Japanese auto makers used quality and lean process as an innovation. Detroit has been feverishly implementing Six Sigma but they are still losing ground to the Japanese and now the Koreans and soon to be China. Why?
Six Sigma is a great thing but doing it as a "me-too"? only creates commoditization. Worse yet, the entire process of Six Sigma is about doing the same thing cheaper and cheaper. That leaves you in a death spiral to the lowest priced product, and little or no profits. Does that sound familiar?
Detroit, Michigan and the USA in general need innovation. Everyone knows that but almost no one is really doing it. The main reason is they don't know how. What if innovation could be as predictable and systematic as Six Sigma? What if a company could create practical, profitable innovations on demand? Does that sound fantastic? Impossible?!? It is fantastic and it's absolutely possible.
Predictive Innovation makes innovation:
Efficient
Low-Risk
Controllable
Repeatable
Competitive
Reliable
Just-In-Time
Rather than looking at innovation as a magical creative activity it uses the very well defined study of System Theory and new breakthroughs in Information Theory to create a step-by-step process for innovation. How systematic is it? How about knowing there are 7 specific elements to innovate in any product or service and there are 15 types of alternatives for each element? When you realize that, you are guaranteed 105 innovations targeted precisely to your business needs and your customer's desires.
When you use Predictive Innovation you can create an innovation strategy that causes your profit margins to increase overtime, risks to decrease and eliminate the threat of any competition.
Predictive Innovation has been used to create entire families of products, increase the value of investments, and solve seemingly impossible problems. It's been applied to manufacturing, software, medicine, marketing, security, business strategy, politics, and entertainment.