[jwplayer player="1″ mediaid="2296″]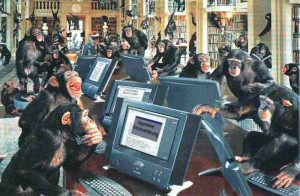 I got an ad emailed from a company claiming they set the world brainstorming record by generating 454,000 ideas in one hour with 8,000 people. Let me ask you, how many of those ideas were good?
How many of those ideas are things you could profitably deliver? How many just plain stink.
If you had 8,000 people spitting out random ideas for an hour, how many do you think were the same? I would say most were pointless differences such as a shade of a color, basically copies. Even if all 454,000 were unique, is that all the important ideas for the specific need? If not, was the best idea found or is it still sitting out there undiscovered?
How long will it take to weed through half a million ideas? Can you test 454,000 ideas? How much would that cost? How much time and money would that waste?
More ideas doesn't equal better ideas. More certainly doesn't mean the best idea.  Your time is the most precious resource you have. You want to get the absolute most value from your time. You need to pin point the correct idea and all the valuable connected ideas immediately so you can deliver without pausing. You need to see in advance what customers want and how to profitably deliver it with readily available resources.
That last sentence is a phrase I use to promote Predictive Innovation but its true, isn't it. If you wait to react you already lost time before you start. If you work on things you don't have the resources to complete you waste time & money hitting dead ends or scrambling for the missing pieces when you could be delivering value.
I realize the reason people randomly throw stuff at the wall hoping something sticks is because they don't know a better way.  That's sad. Have you felt that way? You can do better. I want to help you do better.
What does better mean? It means starting with a reliable way to measure the value of each idea before you have the "idea". Then a way to draw a boundary around all the relevant ideas so you know what is in and out. Perhaps more importantly see what you missed. Plus have all the ideas organized so you can quickly pinpoint the most valuable great ideas and how they are connected. That maximizes the value and minimizes the risk. Does that sound like what you're looking for? Can you see how much better that is?
If you want to be part of a new group I'm forming to help entrepreneurs find and successfully launch great businesses and non-profits signup so I can keep you informed.