Ideas to make high precision low cost head positioning systems for 3D printer / fabricators / CNC machines. Precision stepper motors are expensive. What if you could use cheap analog motor? They could be very fast and cheap.
Electrical Resistance
Run a length of wire along each axis of the printer / fabricator / CNC and measure the resistance at the head position. Using a table of actual resistance measurements on the device could increase accuracy and even heat differences could be taken into account. This could be extremely accurate and low cost.
Optical
Optical is another approach, this is how mechanical mice and mane printers function. Using a digital camera with distance measurements on a scale printed from a long format printer could make the device very fast and accurate. Using optics the accuracy could increased fine precision even with cheap webcam sensors.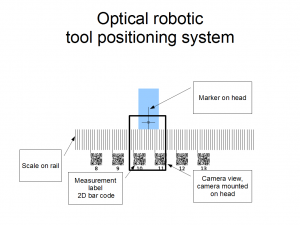 RF Triangulation
Mounting an RF transmitter on the head and antennas at the corners of the tracks could allow triangulation of the head to extremely high precision even over very large distances. This is the same technique used by GPS and cell phone towers. The precisions scales with size and frequency transmitted.
Electrical Balancing
Using opposing electrical currents to create a balance for any location along the rail. With the correct calibration this can be very accurate plus provide very fast movement.