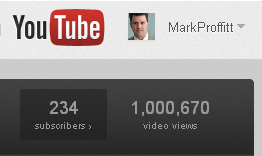 My Youtube channel, just surpassed 1 million video views.
I posted my first video Why 88% of Ideas Fail to Make it to Market on February 11, 2008. Since then I've posted a total of 30 videos but by far the video with the most views was Why We Don't Have Flying Cars, Yet.
My channel is now receiving over 100,000 views per month so the second million views should happen in less than a year. To celebrate 1 million views and to help get more views I'm making Predictive Innovation Core Skills: Inversion available for free.
This Japanese solution for stopping pirates from boarding ships is an excellent example of using readily available resources to innovate.
Pirates make money by capturing people or property then either hold it for ransom or attempt to sell it. Either way they need to get on board the ship to achieve their goal. Sinking the ship or killing the passengers isn't profitable so pirates avoid that.
Water is definitely a readily available resource to a ship. Ships also have pumps used for fighting fires, cleaning the decks, and removing unwanted water.
The Anti-Piracy Water Curtain uses what already exists on a ship including what the crew knows how to do. It also doesn't require many people operate so existing crew can turn on the water curtain and still do their normal job.
Resources are 1 of the 7 Elements of an Outcome. Combining the 7 Elements with 15 Alternatives reveals 105 types of innovation for any Outcome. Learn the entire Predictive Innovation method.
Anyone can learn how to quickly solve seemingly-impossible problems. This self-paced online class is a brief introduction to Predictive Innovation® you can use in your life immediately.
When I say anyone I mean it. Children or adults can understand and use the skills taught in this class. You can use the technique any time you want a better option or a different idea.
This easy to understand class teaches you how to use one of the 15 Alternatives to solve problems and find innovations. The technique introduces you to skills needed to describe the entire idea space and predict innovations.
Predictive Innovation® Core Skills: Inversion This course is being re-done, signup at www.PredictiveInnovation.com to be notified when the new course is offered..