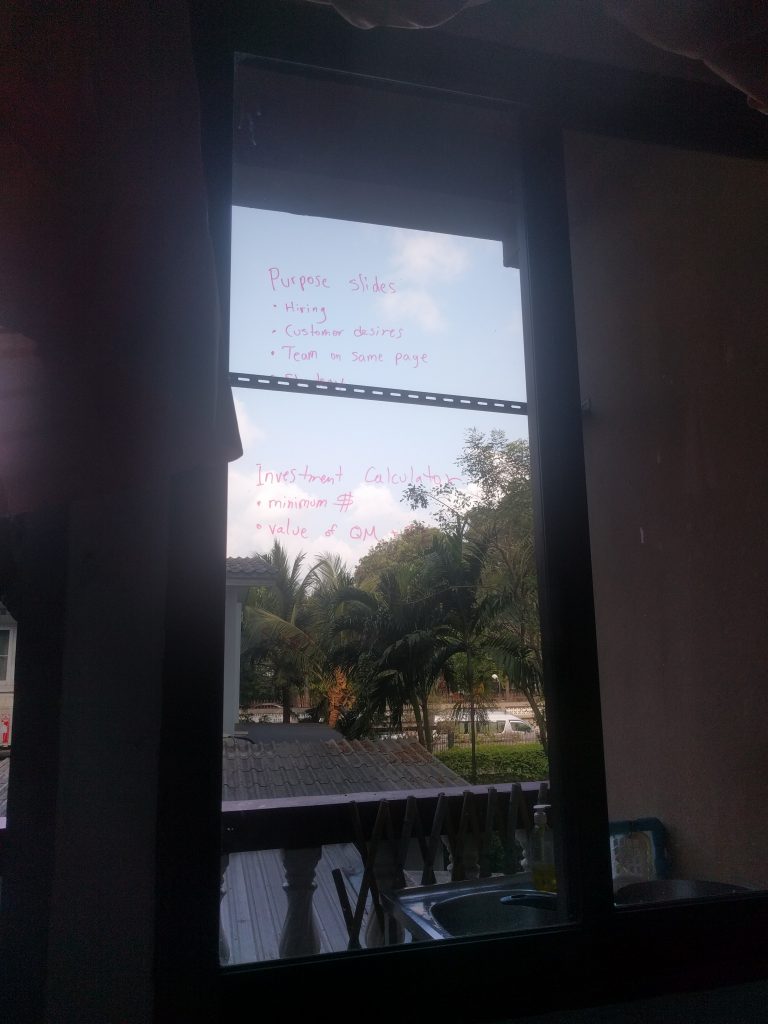 Looking out the window at the palm trees in Bangkok while working on my "Wluesky Whiteboard" is extra motivating. Finding co-working space when traveling can be a hassle & expensive. A window or mirror is nearly always available & might even have an inspiring view.
This article will introduce a concept that my next book covers in great detail. It is the biggest problem facing society and the most wonderful opportunity. It's called Free.
While I was in Thailand I spent two days at Maesa Elephant Camp learning to be a mahout (elephant driver). It was one of the most magical experiences of my life. Interacting with the elephants, the scenery and the way the staff treated us was amazing. One of the things I got to do was make a painting with an elephant.
[kml_flashembed movie="http://www.youtube.com/v/kgjoDUMvlZ8" width="425" height="350" wmode="transparent" /]
Mark Frazier with Kong Kham Painting at Maesa Elephant Camp
Many of these elephants used to work in the timber industry. The need for elephants for logging has dropped so these elephants and the mahouts were out of work. This is an example of how technology advances and makes things free. Elephants once were the cheapest way to harvest logs in terms of time and materials. But now new technology makes it even easier. People used to pay mahouts to ride elephants but they no longer get paid to do that. That is the negative side.
The positive side is timber is much cheaper now so people in general have extra resources to use on other things. And that leads us to the positive effects of Free.
When the real cost, in time and materials of a product or service drop to the point where people don't put much thought to the cost it is treated like Free. Think of a buffet. People will try a dish they might not because it costs them nothing. And of course the only way that a buffet can work is if the scale of sales make the individual costs cheap enough to let everyone take as much as they want. This is relative Free. An example of absolute Free is a by product of another process. If you were going to throw it away it is free.
Now that no one would pay mahouts to ride elephants some innovation was needed. The solution, charge people to ride elephants. This exact same thing has happened with many industries. Now that people have extra leisure time because the products are so much cheaper they value experiences. They are willing to pay to do something in the old way just to have fun.
After spending two days riding elephants I can assure you that doing it all day every day for a job is not fun. You would have to pay me to do that, but I was more than happy to pay to learn how to ride elephants and enjoy being with them for two days. It was fabulous. A once in a life time experience.
Here is a little tip. Not having a business card when someone asks is the kiss of death for success. All sales people know to keep plenty of business cards on hand. What if you run out? Even quick turn around companies like Vistaprint require a couple of days to get you a new supply of business cards. So what do you do if you need business cards now?
Here is what I do. Keep a digital copy on a CD or USB Flash Drive. The best format is an Adobe PDF. When you need business cards in a hurry, go to the local instant print shop, such as Kinkos and have them print your business cards from the file on your CD or a USB Flash Drive. I ask the helpful people at Kinkos to print my document on glossy cards stock using the color printer they have behind the counter. You can also request a matte finish and colors if that is what you want.
A single 8.5 x 11 inch sheet of card stock produces 10 business cards and costs about $1.5 per sheet or $0.15 per card. It's obviously not the most economical but it's fast and produces high quality cards instantly. You can have them cut it for you but since my card is a full bleed design I take the sheets over to the manual paper cutter and do it myself, saving a bit of cash.
Now for your normal cards I use psPrint.com. You can upload your dual sided full color business card file then place orders any time you need more. This is super convenient and cost effective. Their quality is top notch. And as I mentioned before, you can try VistaPrint, they offer a similar service.
A really easy way to make your business card file is to use the business card template I have here and paste a high resolution JPG into each of the 10 cells in the table. Make sure your JPG is at least 150 DPI (dots per inch), I prefer 300 DPI. This file will be several mega bytes when you are finished.
Action Items
Make a PDF or Word Document of your business cards
Get a USB Flash drive
Keep the business card document with you ready when you need it