This Japanese solution for stopping pirates from boarding ships is an excellent example of using readily available resources to innovate.
Pirates make money by capturing people or property then either hold it for ransom or attempt to sell it. Either way they need to get on board the ship to achieve their goal. Sinking the ship or killing the passengers isn't profitable so pirates avoid that.
Water is definitely a readily available resource to a ship. Ships also have pumps used for fighting fires, cleaning the decks, and removing unwanted water.
The Anti-Piracy Water Curtain uses what already exists on a ship including what the crew knows how to do. It also doesn't require many people operate so existing crew can turn on the water curtain and still do their normal job.
Resources are 1 of the 7 Elements of an Outcome. Combining the 7 Elements with 15 Alternatives reveals 105 types of innovation for any Outcome. Learn the entire Predictive Innovation method.
The full list of outcomes for video is:
Recording
Storing
Editing
Locating / Selecting
Viewing
Disposing
Doing each of those anywhere, anytime, for whoever, for the price desired with no hassle is the ultimate.
Including a projector on the camcorder satisfied an outcome that was under-satisfied. It also utilized existing components so the extra feature was less cost than an extra device.
Future innovations will be in editing, and selected sharing. As I've mentioned in other posts augmented or diminished reality could be useful in a camcorder.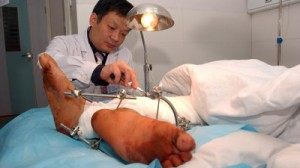 Doctors in China use many principles of Predictive Innovation® to save a man's foot when it was cut off in an accident.
http://web.orange.co.uk/article/quirkies/Doctors_put_left_foot_on_right_leg
The man's foot was cut off because of an accident. The damage to the leg prevented the foot from being immediately reattached. So there was a dilemma.
Must re-attach the foot to the leg immediately so it doesn't die; but, we can't attach the foot until the leg heals and grows.
One way to handle dilemmas is to invert then rephrase. Instead of immediately reattaching the foot to the same leg they attached it to the other leg. This was a great idea because the patient would not be able to walk while the other leg was growing and healing after moving it to the correct leg. Attaching the foot to the patients other leg is the perfect environment for the foot while waiting.
Other approaches have been tried such as freezing the organ to be reattached. Current technology can't reliably prevent damage from ice crystals.
Another improvement could be using stem cells cultured from the patient and sprayed onto a growth matrix. This could accelerate the grow and the healing when the foot is reattached.
Another inversion is to let the foot die and attach a cloned foot. That technology has already been used for less complicated body parts.